Human rights – Protect, Respect, Remedy
In the past there has been considerable dissension regarding the definition of companies' human rights responsibilities. In June 2011, the UN Human Rights Council adopted a framework setting out companies' responsibilities.
---
John Ruggie, the UN's special representative for human rights in business, developed the framework "Guiding Principles on Business and Human Rights: Implementing the United Nations Protect, Respect and Remedy Framework".
The framework comprises three principles that provide guidance to companies in their work with human rights. It emphasizes the responsibility of governments to protect human rights, the responsibility of companies to respect them and the shared responsibility to remedy any problems.
Governments still bear the fundamental responsibility for safeguarding human rights, but John Ruggie's principles clarify how companies should act. For example, companies need to carry out a due diligence of human rights issues, which for investors may facilitate the analysis of companies' risk management and any violations that arise. Such an assessment can also form the basis of dialogues with companies.
---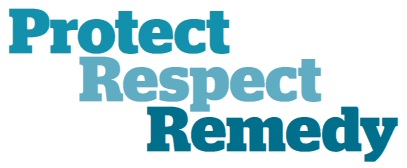 John Ruggies Principles
 "UN Special Representative John Ruggie proposed a framework on business & human rights to the UN Human Rights Council in June 2008, resting on three pillars:
Protect
The state duty to protect against human rights abuses by third parties, including business.
Respect
The corporate responsibility to respect human rights.
Remedy
Greater access by victims to effective remedy, both judicial and non-judicial.