In 2021, the Council on Ethics participated in reactive dialogues with 85 listed foreign companies. A company dialogue is about how the company handles difficult challenges in its operations such as corruption, human rights, working conditions, health and safety, environmental pollution and biodiversity. Through dialogue, the Council on Ethics can contribute to preventing problems, violations and accidents in various companies and industries.
The Council's screening during 2021 of the AP Funds' holdings, identified 23 confirmed violations and 89 cases with a risk of violation. These 112 incidents were represented by 85 companies with whom dialogue was conducted during the year.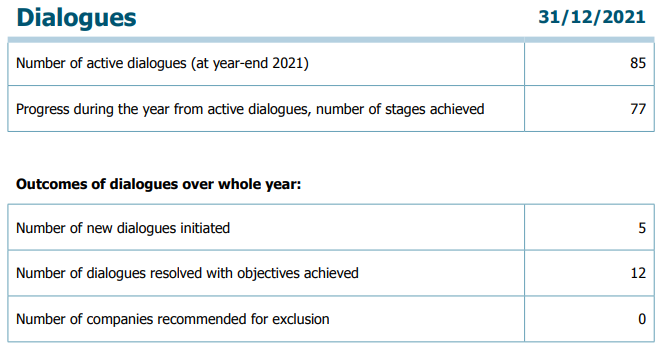 In 2021, 12 dialogues initiated due to a norm-violating incident were terminated when the goal of the dialogue was achieved.

About 60% of the advocacy dialogues at the end of 2021 are about human rights, 27% about business ethics, and 13% about the environment. Just over 40% of the incidents occurred in Asia/Oceania. At the industry level, industry and raw materials/materials were the most common areas.